We're just a couple of guys from Washington, DC building a house on St. John. Sounds simple enough! Guess we'll see about that. So ... here's a running timeline of the progress on our Bongo Bongo St. John blog.
June 2002
After several great trips to St. John, we – just like a lot of folks – fell in love with the island. In June, 2002, we bought a lot in Chocolate Hole North as an investment. We fully intended to buy an existing house on the island, and spent the next year or so looking. We even made a couple of offers. As real estate prices soared, we got priced out of the villa market and it became apparent that we could actually build a place for less than it would cost us to buy one. Be advised: Everybody can't wait to tell you what a nightmare you'll be getting into if you decide to build in the Caribbean, like it's right of passage or something. Ask me when we're done if they were right!
By the way, we worked with Cruz Bay Realty when we bought the land and when we were looking for a villa to buy. I can't say enough good things about the folks at Cruz Bay Realty, and we have become good friends with Gretchen Labrenz over the last couple of years.
June 2003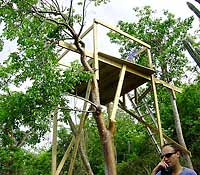 We knew we had a pretty good lot in a very good neighborhood, but didn't know if it would be a tough build or exactly what kind of view to expect. We paid a guy on the island a few hundred bucks to build us a "tree house" about halfway up the hill so we could see the view. It's great! Hart Bay and Chocolate Hole Bay, French Cap, open sea, St Thomas and south shore hills. We named the tree house Villa Arbor, and joked about putting it in a rental program immediately. We figured we might get $300 a week if we added cable!
October 2003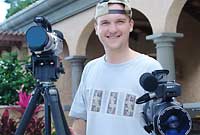 By fall of 2003, we are both fully engrossed in everything-St. John, and were lucky enough to be able to expand a small business to the island. We hope it continues to grow, and that we're able to eventually devote much more time to it. It's really great to have found a niche that has some growth potential and that's a lot of fun.
November 2004
We knew what kind of a villa we wanted. A small house, with lots of outside space and a huge swimming pool. Finding someone to draw it was tougher than we thought it would be. After firing one architect, and then being fired by another (few architects on St. John are interested in "small" projects these days), we finally found John Maize. John is a builder and designer who lived on St. John for 20 years, and now lives in Annapolis where he's rehabilitating historic houses. John is a great guy. He liked our ideas, and we think he designed us a really cool little house. I would have no hesitation recommending John to anyone looking for a good architect that knows the island.
December 2004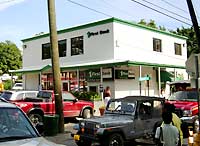 We're not rich, so this project's gonna take a little help from the bank. We got a construction loan from First Bank for a good chunk of what it will cost. The bank is sssslow moving, and the experience was at times frustrating because of that. But Holly Hardy, who we worked with at the bank, was great. She was totally reassuring and did her best to make the whole process easy, albeit slow, and she's one of those people with the kind of personality that keeps things fun. While we have the loan now, we don't yet have any of the money.
January 2005
Our architectural plans were basically completed by the end of the year, but it took us two months to get all the necessary permits and approvals. There' s a ton of paperwork and a lot of red tape involved in the process in the Virgin Islands. We actually hired a woman who lives in St. Thomas to do all of the leg work and get all the necessary approvals. We paid her a few hundred dollars, and she did a great job for us. I'd be glad to recommend her if anyone's interested. (A builder will also do this, but we hadn't chosen one yet.)
February 2005
We had spoken with a number of builders, and felt comfortable with most of them. Choosing one came down to two big factors: Do they have a good reputation? Can they build it on time? We chose Jonathan Ruhsam, who runs Sunnyrock Building & Design. There was no question about his reputation and we were surprised by the number of folks who said his projects actually came in on time. (Pretty unusual on St. John.) We also really like they guy. I think he'll be great to work with. (Fingers crossed.) My advice? Ask lots of people about the builder. It's a small island. There is no shortage of opinions. Just about everybody knows everybody so recommendations (or warnings!) about people are pretty easy to get.
March 2005
March 5, 2005! Construction actually begins. It was amazing to watch a giant machine just dig its way up the hill, and basically scrape the hillside bare. We were kind of shocked that so many of the trees were wiped out, and it sure left a big scar on the hillside that you could see from just about everywhere.
The building permit makes it all official. There is no turning back at this point.
Having business reasons for being on St. John is also a legitimate excuse for at least one of us to be on St. John once a month from here on out, so that should be helpful in keeping an eye on things.
By the way...still no money from First Bank. We can't close until there's been an appraisal, and it's taking weeks. Everything so far has been out of pocket.
April 2005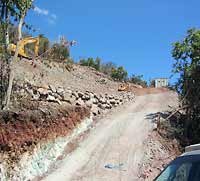 By April, the hill is entirely cleared, and the driveway is pretty much cut in. It looks steeper than it is, and hopefully the final version will be even a little more friendly. (Watch video of first drive up driveway.) We also did not get off to a very good start with the Estate Chocolate Hole Landowners Association folks. That Porta Potty at the end of the driveway prompted a lot of calls and complaints. We eventually got the builder to move it.
The dig for the cisterns also got finished in April. This is a scary phase of construction, because you run the risk of hitting a lot of rock. The bad stuff is called "blue bitch", and if you hit it, it's expensive to get through it. We hit some, but we lucked out, as it wasn't much at all.
The cisterns, (which will be under the covered veranda, between the main house/bedrooms and the swimming pool) are about 8 feet deep.
Concrete slabs are poured for the cisterns in mid-April. Oh!....and guess what? The First Bank loan has finally closed and we can start tapping that resource ...eventually. A construction loan allows you to take draws as the building progresses. How much you can draw is based on how much work the bank's inspector thinks your builder has done. More red tape.
May 2005
In early May, the forms went up for the cistern walls, but the project comes to a screeching halt. There is a concrete shortage on the island and builders are all struggling to get what little there is. It doesn't help that another big chunk of Fish Bay's roads are getting paved. That depletes the already limited supply. (Happy for Fish Bay though.)
May 28, 2005
With the forms down, the three cisterns - a total of 28,000 gallons - are complete. Behind the cisterns will be the next dig…as the hillside is dug out for the house itself. The cisterns will be the foundation for the covered verandas overlooking the pool.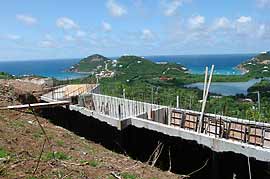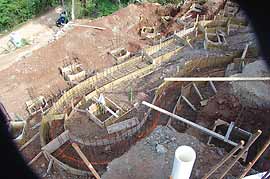 In front of the cisterns, the forms are in for the pool. A lot bigger than we thought it would be! The pool itself will be 40 feet long. These forms will serve as the foundation for the pool…and needed to be on solid ground, so the pool foundation is about 12 feet below actual pool level.
Also in place, the forms for the footings that will hold up a total of 18 columns….all of which will support the big pool deck and sundeck around the pool. Concrete should have been poured this week. But again, there is another concrete shortage. Soon come.
June 18, 2005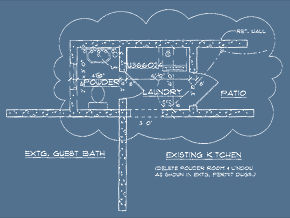 A change in plans. Uh-oh. Everybody knows that once your plans are done, changes start costing money. The sooner you make them, the better off you are. This is especially true in St. John, since you're building a house with concrete walls!
Original plans had the washer and dryer in one of the bedroom's bathrooms, which we decided was too inconvenient. So, we bumped out an addition on the back of the house...for laundry, much needed extra storage, and a half bath. This also guarantees that we'll get some kind of patio behind the house. The size and shape of the patio is up in the air, and will be determined by how well the dig goes.
July 1, 2005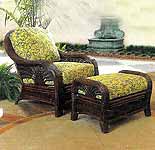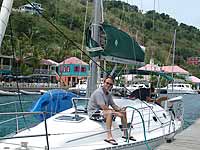 Concrete conundrum. The forms for the remainder of the pool foundation and for all of the columns have been in place for three weeks, but there is no concrete to be had. High demand, limited supply and a series of barge and availability problems have everybody in the same boat. Most of the crew is laid off or on other jobs. Those that remain on the job are busy wiring rebar needed for future pours.
We also started planning the furniture. This is the time to start. We need to figure 12 to 16 weeks for delivery, and we've got lots of decisions to make. Lots of people said "Go to Miami and load up a container," but we're going to let Functional Furnishings (functional furnishings@yahoo.com ) right on St. John do it all. Their prices are as competitive as what we've found stateside, plus ... they get it shipped and delivered, unpack it and haul away all the packing material. We're also getting a very nice "whole house" discount, and Claudia Hartshorn is a blast to work with.
Still time to play. Water stop at Soper's Hole, Tortola.
July 25, 2005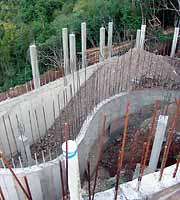 The forms are down. The forest of columns is ready and the pool foundation is done and filled with earth. The action now is behind the cisterns. The excavation for the house site itself goes well.until we hit rock. We are insistent on having patio space behind the house, and we hammer out enough space to get it. We also drop plans for what would have been an ugly (and expensive) retaining wall in the rear, in favor of a terraced boulder wall that will be built from the rocks we already own.those hammered out of the hill by the excavator. This should also be the last big excavation, so so-long to that big machine.
August 3, 2005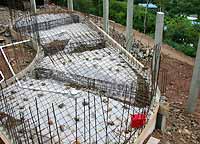 Rough spot. A miscommunication meant the excavator failed to dig the hill behind the house back far enough. He is called back to finish the job and create a space that will be at least 12 feet deep. Meantime, steady progress getting ready for the next two pours. Plumbers doing their job in preparation for the house slab pour. And getting the pool foundation for the slab pour there. And getting the pool foundation ready for the slab pour there.
August 10, 2005
Another minor problem. The topographic plans our architect worked off of weren't exactly accurate. The side patio and outdoor shower that belong to the east bedroom aren't on-grade. As in...they're suspended in the air, not on solid ground. This means a quick solution. Several short columns are poured to support these structures, and will eventually be buried with infill.
August 15, 2005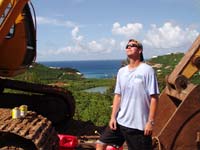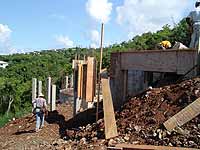 Over budget, and why did we want a hot tub? We are now officially over the excavation budget. Way over. The whole "back patio" thing has turned out to be somewhat of a disaster, although we'll have the patio in the end. And the section of the house that's not on grade is a bigger deal than we realized. Can't wait to see this big machine get off our worksite. The hot tub area, which is actually partially cantilevered over the poolside wet bar has become an engineering feat, and the side patio and outside shower required a number of additional columns. Problem solved however.
August 18, 2005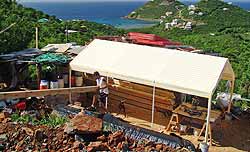 The roofers are now on site working. A big tent keeps them cool and dry as they plane and rough finish all the timbers that will be used to construct the roof. The material will also be painted and stored on site, and be ready to go as soon as the walls go up, hopefully within 2 weeks. (The tent is available for rent for wedding receptions, if anyone is interested.)
August 21, 2005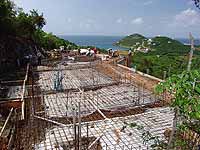 Foundations and fabric: The main house slab is framed, the steel is in place, and the plumbers and electricians have been here putting their webs of conduits and pipes in place. Everything is ready for the big pour (100 yards). The pour must go well. It needs to be finished smooth, since we're doing a stained concrete finish, and the crew isn't used to making a perfect finish, since most slabs are covered with tile. The one thing that Jeff has really dreaded doing is done. Selecting fabric for all the furniture. Yuck! So, Russ did it. With help from Claudia at Functional Furnishings, cool stuff is chosen, and our furniture order is one step closer to being ready to roll.
August 31, 2005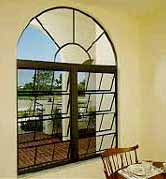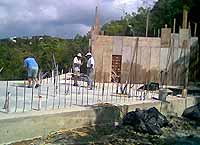 Bummer. PGT Industries, a Florida company that makes the cool awning windows just about every builder on St. John uses, stopped manufacturing them at the end of July. We really want awning windows. You can leave them open even during a hard rain. They're tough to break into. They look really cool. The hunt is on for a similar product, but the concern is finding similar quality. Great news about the slab pour. They did a really good job. Jim Hall (the guy in the blue shirt) is one of only a few people on the island who knows anything about concrete staining, and we hired him for our job. He's scoring the "tile" lines in one of the bedrooms in this picture. I've seen a couple of his jobs, and he does very nice work. Also, forms for walls are going up and walls should be poured shortly.
September 11, 2005 (Jeff's Birthday!)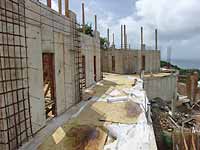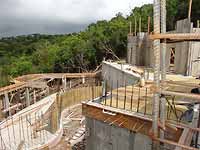 It is Action Central at Bongo Bongo right now. Forms are up for the wall pours, and the electricians are busy wiring what will be the walls. The plumbers are doing the same thing, and part of the crew is framing out door and window openings. Meantime, out front, the rest of the crew is busy framing up the sundeck and pool deck areas….and the forms are going up for what will be the pool walls. At this point, we're about 5 percent over on the concrete budget, which is amazing, considering how much extra we've had to pour. And here's a staggering number: As of right now, there is approximately 10 tons of steel in this job!
September 15, 2005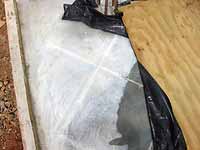 The crew seems to be doing a pretty good job protecting the concrete slab for the main house. Here's what the scoring looks like right now. When we get further along, Jim Hall will return and stain the concrete, using a pretty cool technique that involves several steps and lots of chemistry. The scored floors will alternate squares between a terra cotta color and a bronze color.
What to make of that back patio? Who knows. Right now, it looks just awful. It's certainly plenty big…about 12 feet wide and a good 25 feet long…but that huge rock bank makes it seem dark and claustrophobic. We're trying to come up with ideas for this space. Clever landscaping might help.
Good news about the awning windows. We found another company in Florida that is now manufacturing them. In fact, this company bought much of the fabrication equipment from PGT to expand its own production.
September 17, 2005

At our builder's encouragement, we spent some time this weekend at a Home Depot Expo store, and a lot of time online, shopping for bath fixtures. They'll need part of the shower hardware soon, and it doesn't hurt to find what we like for the rest. While tempted to write down model numbers for $500 deep massage shower heads and $5,000 art glass vanity basins, we stick to the basics and the budget. American Standard, Delta, and Kohler all make some cool looking stuff. Before we know it, we've actually settled on just about everything from sinks to faucets for baths and kitchen. The builder will take the numbers, and get the stuff wholesale. Lighting fixtures next, and yes, we'll give a little business to Donald Schnell. (I think it might be mandatory on St. John!)
September 20, 2005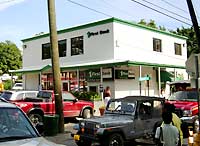 "The man" says no more money. FirstBank has officially cut us off, refusing our latest draw request. The inspector says no more money until the roof frame is on. It's all a formula based on percentage of completion versus draws being made. Some advice if you're planning on taking the plunge with the bank as your co-pilot: Make sure you have plenty of your own money going into it. You'll need it to keep the job going….which, thankfully, we are. And, hopefully we'll have a roof frame to show off in a couple of weeks.
September 26, 2005
Fun with tiles...We've been in a couple of villas lately that had beautiful glass tiles.They're also incredibly expensive. Anywhere from $30 per square foot to $60 per square foot. We hooked up with a woman in Upstate NY who has distributor deals with some Japanese tile makers, and the glass and iridescent glass tiles she can get are amazing, and really inexpensive. Her name is Susan Jablon and her Website is www.mosaicartsupplies.com. There's even a cool online tool that lets you mix and match tiles to create your own "recipe". She sent tons of samples to us here in Washington, and We're toying with the idea of glass tiles for the pool borders and the big wall that rises out of the backside of the pool.
September 30, 2005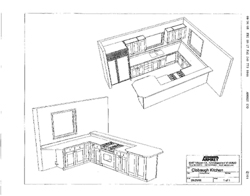 Choosing cabinets...More detail stuff starting now. We're using a custom cabinet maker on St. Croix who does great work at a reasonable price. It is time to start deciding on cabinet placement, sizes and finishes. The process starts with some rough sketches, and then will move on to choosing finishes and hardware. The cabinet maker is Jack Bishop, and you can see some of his work at his Website, www.armrey.com. And he includes these cool 3D representations, not just standard elevations, with his designs.
October 8, 2005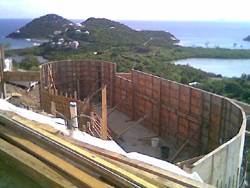 Walls and rain…It has been pouring down rain for a week in St. John and that has slowed just about every work site on the island. In our case, it just meant waiting out the rain until concrete could get poured. The walls are finally poured and the forms have been stripped. Inside you can see the frames for the awning windows with the arches above. Unfortunately, the pool still has not been poured and is now scheduled for Oct. 18. This needs to get done, because the framing for the pool deck and sundeck can't be completed until the pool is poured. So much of the deck infrastructure ties directly to the pool walls. In the meantime, the roof crew now returns, and should begin putting the roof frame in place next week.
October 10, 2005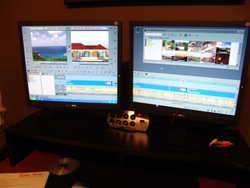 Marketing the villa. Carefree Getaways has done a good job of including a "coming soon" page on their Website, and we've taken out ads with a couple of travel forums (www.vinow.com and www.usvi-on-line.com) and a newsletter (www.newsofstjohn.com ). Our Website gets a lot of traffic from these investments, but in the end, we're trying to market a house that's not even finished. A tough sell. Since we produce video for a living, we figured it was time to produce a "coming soon" DVD of Bongo Bongo. The whole point of this project, from a rental point of view, is to make it a really cool, unique, fun place. We'll put the video on Carefree Getaways' Villa Tours DVD and update it as often as we want, since we produce Carefree's videos and do all the order fulfillment. If anybody's interested, just send us an email and we'll send you the latest Bongo Bongo DVD. (info@bluetangproductions.com)
October 11, 2005
Rain, rain, rain…and Wow! Thanks for the interest! It has been raining almost nonstop across the territory for going on two weeks now. Not as bad as last November, when there was 17 inches in two weeks, but pretty close. The builder assures us we're not losing any valuable time. We're both on a US Airways flight Saturday for another visit; first time we've both gone at once since Spring. (Huge tip: If you're going to do this, and you have the luxury to go as often as one or both of us has, sign up for every single offer the airlines offer. I've become accustomed to upgrades. First class rocks..especially when you're not paying for it.) Oh! And thanks everybody for the interest in the DVD! I had no idea there were so many people following this saga. DVDs are on the way. Keep in mind…it's a work in progress.
October 15, 2005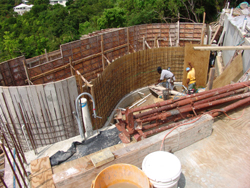 There is no stopping at Starfish or going to the rental house first anymore. Straight from the barge to Bongo Bongo, and what do we see? A roof! Well, at least the beginnings of it. The center beam for the main house is in place. It has been three weeks since either of us was here, and we lost two of those weeks, productivity-wise, to heavy rains. Also, the last of the pool forms are almost done. We are scheduled for another big concrete pour in three days, and that pool will FINALLY be done.
October 18, 2005
We have come to expect concrete NOT to come when it is scheduled, so we were pretty excited to show up this morning and see the pump truck and parade of concrete trucks ahead of us. Three and a half truckloads of concrete to finish that pool and the dining room wall. This pool has been one heck of an undertaking, and expense. Pool foundation, then foundation walls. Then pool floor, and now finally pool walls. The forms come down next.
October 19, 2005
The weather has been cooperating and the roofing guys are busy priming and painting the stack of rafters that have been cut to size and under plastic for weeks waiting to go. You have options here. Stain the rafters or paint them. We went with paint, because it is more forgiving, and we chose a dark brown color (bittersweet chocolate to be precise) because we think it will look great with the light, honey-stained cypress slats that will be the interior roof.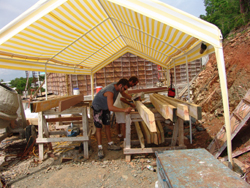 And, with forms down, you can really start to get a feel for the house. The arched-topped windows are going to be really great.
October 20, 2005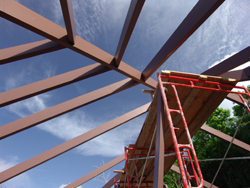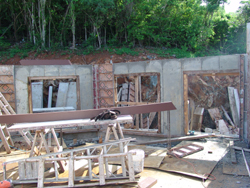 With the majority of the rafters now painted and piled up, the roofing guys get right down to business. This part seems to be going very quickly. But there is a lot of roof to do. The main building, the second building, the dining room that connects them and all the verandas. The builder claims the house will be enclosed (or buttoned-up in builder talk) by mid-November, with doors and windows going in. The forms are stripped from the rest of the house, and will be re-used to form up the columns and arches for the verandas.
October 21, 2005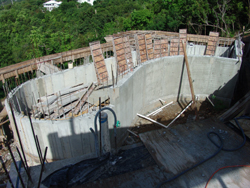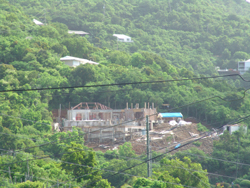 At last, we have a swimming pool. It may be one of the biggest on St. John, but it's also gotta be one of the most expensive. The rear wall extends two feet above the water level, and will tie into the upper sundeck. This presents a great opportunity to do something really cool with that wall. Still thinking about that. Meantime, the place is starting to look less like a scar on the hillside and more like a house. Despite our skepticism, and the guffaws of the people on island we tell, the builder is still confident Bongo Bongo will be largely completed by the end of December. (The word "largely" is open to interpretation, isn't it!)
October 26, 2005
Open an account…get a toaster. We opened a joint account with Carefree Getaways at the bank (just what we need, another bank account.) The management company will use this account for depositing rental checks, and for paying monthly bills like utilities, pool maintenance and landscaping. The management company will send us monthly statements, as will the bank. Right after we opened the account, Cindy at Carefree really did give us a toaster. (It was actually because there wasn't one at the house we were renting, but we thought the timing was funny anyway.)
October 27, 2005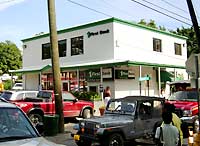 Back to the bank. Oh-kay, let's try this construction loan thing again. We submitted a new draw request today and, considering we haven't gotten a dime from the bank since August, it would be nice if we could get a little something. A lot of something would be better, since we'd like to cover some of what we've coughed up to keep things going. Excavation is now almost exactly 100 percent over budget (largely our fault, stupid back patio and all), and concrete is about 30 percent over budget. We're still in a comfort zone, but we're starting to joke around about a little emergency liquidity. Anybody want to make us an offer on a 4 year old BMW? Kidding. Sort of.
October 28, 2005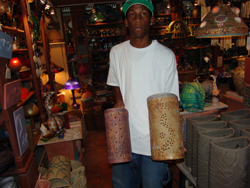 The "Schnell Effect". If you've been in enough villas, you know that Schnell sconces are everywhere. And there's a reason. They are handsome. They cast a beautiful light. They are a St. John icon. You will want some. At least we do. But, don't expect to get them in a couple of weeks. Or months for that matter. This is a very busy studio. Donald Schnell's daughter, Abby, is a Realtor at Holiday Homes, and one of our good clients, and she connected us with Eric, who is your go-to man here. Meet with Eric, let him show you around, and make arrangements, far in advance, to get what you want done. (Pictured: Shawn, one of the artists at the Schnell studio, holding up the two colors and designs that we picked out.) Check out Donald Schnell's studio, and rental villas at www.donaldschnell.com
October 29, 2005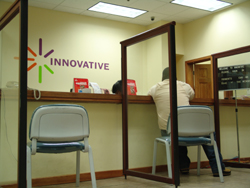 Applying for phone service. You DO NOT WANT TO DO THIS. Make a photocopy of your ID, and pay somebody to do this for you. This task, at the Innovative office on the second floor of the Marketplace, took almost two hours, and there was only one person in front of me. It wasn't that the lone woman working the counter wasn't friendly. She was very friendly. It was the arcane system of filling out forms by hand and then having it re-entered into what looked like a DOS-based data system. (My favorite part was "detailed directions". Turn right by the pile of rocks covered in plastic, and look for the outhouse on the left.) But you DO need to get this done way before your house is finished. There are so many brand new villas on St. John without phone service. A friend of mine has been waiting two years for a second line. We are given a phone number, and despite knowing better, we are promised service will be hooked up Nov. 28.
November 1, 2005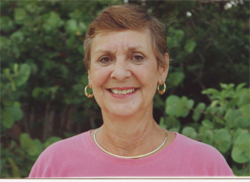 We've been accumulating stuff for the house…you know, little things. Planters. Lamps. Kitchen stuff. Trouble is, until the house is enclosed, there's no place to put it. Well, unless you impose on a friend. Which we have. There are also a couple of self-storage locations on the island, but I've heard bad things like leaky roofs, rats, etc. Fortunately, we didn't need to look into it. But we do need to say thanks to Mrs. Labrenz at Cruz Bay Realty, who has been letting us stash stuff at her house. I think the eight dining room chairs I just added were the last straw though. Our last conversation went exactly like this… (Jeff):"Thanks again for letting us dump off more stuff at your place." (Mrs. Labrenz): "You're welcome. BUT THAT'S IT!"
November 4, 2005
Steady progress…The roof rafters are now on both buildings and bolted down. The next step for the roofs will be topping the rafters with cypress, and then with big rolls of sticky rubber stuff that's like a wet suit for waterproofing. Meantime, another crew is preparing the main pool deck for its big pour. We are very anxious to get this done, as it is about the last major pour, and we can then have a good idea of where we are on the concrete budget. When we said earlier that concrete was about 30 percent over budget, we didn't mean "running about 30 percent over", it means that we have already spent the entire concrete budget, plus 30 percent more. Every time we buy concrete, it is that much further over budget. There are still veranda columns and arches to pour, gutters (they're also concrete) steps and planters. You can huff and you can puff…but you can't blow this house down.
November 5, 2005
Landscaping. This is a very big component, and it's never to early to get started. The sooner stuff's in the ground, the sooner it starts growing. You could easily spend $100,000 on landscaping for a project this size. We'll spend considerably less, but we've got a whole lot of landscaping to do. And we've given the job to Josephine at Coral Bay Garden Center. There are plenty of landscapers on the island. Her name kept coming up from people who didn't just recommend her; they gushed about her. And, the woman is crazy-funny! She is going to be a hoot to work with. She will be involved with every detail, including placement of drip irrigation. A visit to her farm is a great experience. It's amazing just to walk around. Did you know you can spend $10,000 on just ONE palm tree? We'll be going for the $250 variety. We've got time to watch them grow.
November 7, 2005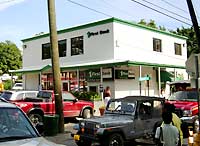 Cha-Ching! First Bank comes through, deeming our project officially 70 percent complete and giving us a big bag of money for our latest draw request. Not all we requested, but a good chunk of it. We'll write yet another personal check for the balance. Everybody is happy today. The builder is happy. The builder's office manager is happy. The crew is happy. We're happy. We feel like Norman Paperman on a good day in Amerigo. Home stretch is near. The hardest stretch. We've still got it in us. (Oh, per Russ's request, I promise to get a new picture of First Bank.)
November 8, 2005
Another trip down in a couple of days. We really like US Airways, and are glad the airline survived, although too bad its dropping the cool navy blue paint scheme. This new Preferred Elite status is so great. Upgrades without even asking, no lines, real food. It also occurs to us, that we must be a St. John builder's worst nightmare. They're used to seeing the owners once or twice at most during a build. ("Oh, yes Mr. Smith, all is going very well all the way down here 2,500 miles away from where you are. Did you get the scratchy little cell phone picture I sent you last month? Don't you worry about a thing! Just wire a little more money, could you?") One of us is there at least once a month, and every single time there has been some on-the-spot decision to be made that we're glad we were on hand to be part of. No disrespect to our builder. He's been great. (Although the scratchy little cell phone pictures do suck.)
November 9, 2005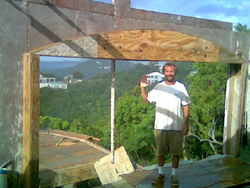 Tinkering with arches. The arched facade of the veranda is key to the look of Bongo Bongo. There is a problem though.
The architect's specs call for a more radical radius at the beginning of the arch, which, according to the builder,means the top of the arches would eat into space needed for the headers. First attempt at a modified frame (Johno the roofer hamming it up) doesn't work for us. The radius of the arch is too shallow. The builder sent this (scratchy cell phone photo) early in the morning. A phone consultation ( and believe me it was pretty hard to visualize this whole thing without actually being there) leads to a second attempt. This modification (with more serious-looking crew member Ruddett) reworks the initial radius to more closely mirror the architect's drawings, while still allowing space for the headers. Much better. These veranda walls will go up quickly and soon be ready for...yup, you guessed it...another concrete pour.
In other news, we finally ordered the hot tub. (Sundance Spa, model: Marin, this is one rockin' hot tub!). We gave the business to Angel Electric on island, despite being a considerably higher bid. They've got a good reputation, and we know they'll service it quickly if we buy from them.
Also today....confirmation of our Schnell sconce orders. Very exciting, indeed.
November 11, 2005
Choosing stucco….there are lots of choices here. Hand troweled, sprayed on, paintable surface, color mixed in, blasted texture, swirled…on and on. Sometimes, we just defer to the builder. We've seen most of the houses he's built. Some several years old, and they all look good. We'll just go with what he's always used. We'll use a stucco system from a company called Total Wall (www.total wall.com). It's sprayed on and pre-colored, making for one, quick step, instead of several steps. It's acrylic and "elasticized", meaning it'll clean easy, won't fade as fast and will stand up to things getting bumped or slammed into it. The downside is you're limited in color choices (about 40). The only decisions we have to make is color and texture. A tip: when you get the little samples of this stuff, make sure you look at it outside on a sunny day. These colors look completely different in daylight…and that's where it will be.
November 12, 2005
Getting stones… A big pile of stones (not unlike those we paid big bucks to have pounded out of our hill and hauled away a few months ago, incidentally!), shows up in the driveway. This must mean the stone work is about to start. We quickly told the builder that we wanted to use our own stones too, before another big pile of stones from who knows where else shows up, and he agreed that would be no problem. (Wonder who bought all those stones hauled away from our lot!)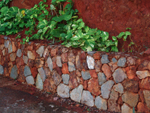 There are many different looks and techniques, but here are the basic ones.
First, and most popular, is the Mongoose Junction look. This is called "chinking", and it is stones stacked loosely and not terribly precisely with lots and lots of mortar. The chinking part is the addition of sea shells, bricks, broken glass, smaller stones, etc to the big mortar gaps. A nice look. You see it everywhere.
The second look is called "close fit", and it is a much more precise, and painstaking, method of chiseling just the right stones to just the right shape to fit tightly together. Mortar is used, but largely not visible.
The third look is called "dry stack", and that's exactly what it sounds like. Even more precisely-sized stones that are stacked without using any mortar and held in place just by gravity and weight.
There is not much difference in cost between any of the methods. And it's not cheap. About $25 to $30 per square foot.
We think there is more than enough chinking on St. John these days, and, while we love the dry stack look, we can't use it for showers.
So the winner is…..close fit.
November 14, 2005
The cypress ceiling…Next step in the roof, well underway. Pictured here, Cubby, who did all the sanding and staining of the 1"x6" cypress slats that go on top of the rafters. He's showing off how well the color works with the dark brown rafters, and he got exactly the light honey color we were looking for. We decided NOT to varnish the cypress, which means a flat finish, instead of a glossy one. A couple of reasons why: First, if you varnish one side, you have to varnish both sides, because if water ever does leak in, it will leach through the unvarnished top side, and hit the varnished and sealed bottom side with no where to go. Then the wood will start growing unsightly mold. Second, if you varnish, you're tripling the production time. A day to stain. A day to seal one side. A third day to seal the other. More money. More time.
The roofers are already putting some of the cypress slats up, and they look great.
November 15, 2005
Arches, take three. For the first time in this project, we are pain-in-the-neck clients for the builder. After mocking up two modified arch forms, the second one we approved just doesn't work when you see it in person. The arches are meant to frame the views, not block them. So…we go back to the architect's original radius, and settle for a flat-topped arch. After driving around a bit, we notice many flat-topped arches, particularly in older West Indian-styled homes. The architect will probably hate it, but it really opens up the veranda and its views. Says Ruddett, the guy who has now made three renditions of the arches, "If you are happy, we are happy." Yes, to both.
November 17, 2005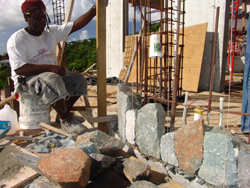 And the stoners have arrived...Master stoner Johnson (if you ask him, he'll say "just Johnson") and assistant Patrick begin to string the plumb lines for their first stone job, one of the two outside showers. (They'll also do the planters and the fountains.) And before you know it, Johnson gets down to work, studying the pile of rocks, picking the one he wants, chiseling off a corner here and a corner there. The stones actually go up in two layers, sandwiching the rebar in between.
And they're good sports, those stoners. They give Jeff a shot at it, who lays two stones for good luck. (You can't miss them. Two very crooked brown stones near the bottom.) Before leaving - Jeff, all smug and proud of being a stoner too - Johnson shouts something that sounds like "Soap dish?" Jeff says "Yes, big one," still not entirely sure if it was indeed "soap dish" Johnson said.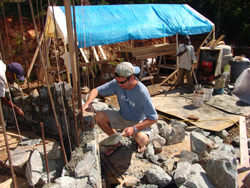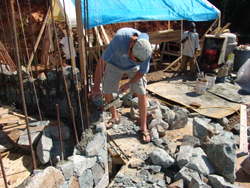 November 21, 2005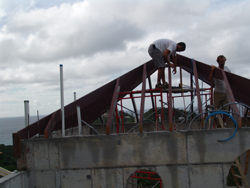 The stained cypress continues to go into place atop the rafters. The crew is doing it in sections, and then quickly covering each section with the sticky, rubber material because the weather has been so unpredictable. There has been light rain off and on every day for the last few weeks. Doing it this way gets the cypress up, but protects it as the work goes.
These roofers are great. This kind of work requires not only strong skills and a mathematical head for following complex plans, but they are also fearless...climbing around with ease 17 feet in the air. I asked one of the roofers, Alden, if he'd ever fallen. He gave me a wry smile, paused, and then just said "Maybe."
November 22, 2005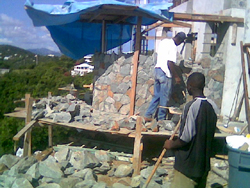 The first stone shower continues to rise. The builder tells us the stonework is as good as any he's seen on the island. (Although I doubt he'd send an email to tell us it looked like crap.) By my calculations, this is three and a half days of work so far. That'd mean about a full week's worth for each shower.
The tarp is as much to keep the stoners dry as it is to keep them out of the sun. It continues to rain off and on this week.
November 24, 2005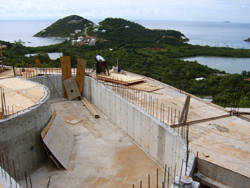 Happy Thanksgiving! Holiday or not, Bongo Bongo work continues. The pool deck and sundeck are closer to the pour, and looking more and more ominous. Still rebar to go down, but this is obviously going to be a major pour. We had a client-builder intervention this week, and we all agree that it's time to sit down and figure out exactly how much more it's going to cost to finish this place. We are at the point at which the numbers should be very clear. Update to follow. Holding our breath.
November 26, 2005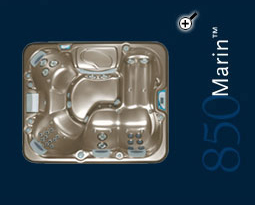 A home for the hot tub. It looks like they've finally got this engineering miracle figured out. The framing is in place for the hot tub, which is suspended above the utility room below. It will be supported by one, gigantic column in the middle, and suspended out over what will be the poolside wet bar, and surrounded by stone planters on either side. Final tally on the hot tub? $11,000, delivered and installed. Almost twice the budget. It's a great one, but we still don't understand why people want a hot tub while on St. John. Aspen in February? Sure. The Caribbean? It dips all the way down to 76 degrees at night.
November 30, 2005
One shower down. Guess that took a little more than a week. It looks like Johnson's going to be around for awhile.
Our furniture is already starting to show up. Both mattress sets arrive this week...four weeks early. Claudia at (what used to be Functional Furnishings, but what is now) Welcome Home will store them. Another container is scheduled to arrive mid-December.
December 1, 2005
Buying appliances…We learned a couple of things from this piece of the puzzle. No stainless steel. Pay more to go local.
We had planned to do the whole stainless appliances thing in the kitchen, but we've been told again and again not to. So we've been paying closer attention to appliances we see in villas in the last few months, and stainless does rust. Maybe not as fast, but it's ugly when the pock marks start showing up. The appliances will be black. (They'll rust too. But they'll hide it for awhile longer.) The Viking range is the exception, and even it will be part red enamel. (Viking calls it Burgundy.)
It's also important to get the right refrigerator. This appliance will take more beating than any other, what with constant power outages and surges and heavy use. You need to choose a good one, but it makes no sense to spend a fortune on a refrigerator, since it'll almost certainly have to be replaced long before its stateside life would be over. We go with Whirlpool's top end for frig and dishwasher, and its Duet line for washer and dryer (high capacity and water frugal.)
We're also buying from Appliances Plus at the Lumber Yard. We price shopped and could save about 20% at Home Depot on St. Thomas, but if we buy from Patrick, he'll service when we call. And he's about the only warranty certified service guy on island. You're not likely to get same day service from Home Depot, and that's not good for a refrigerator full of Red Stripes getting warmer by the minute.
December 3, 2005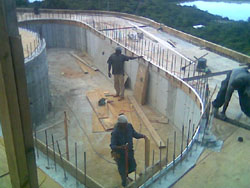 Because the deck surrounding the pool will be stained concrete, not tiled, the crew solves a problem with a clever solution. We wanted a bull-nosed finish to the lip that overhangs the pool all the way around, not just a squared off edge. So, they slice PVC pipe in half lengthwise, bend it around the entire circumference of the pool and make it part of the form. After the concrete's poured, and the plastic pipe stripped away, it should leave a nice, rounded edge.
December 5, 2005
Revisions to the cabinets for baths and kitchen, and making them begins. (Jack Bishop really has been good to work with.) We're cutting it close on this, because turnaround is supposed to be 6-8 weeks. Revisions were simple. We added a huge trash pull-out in the kitchen, as well as pull-out drawers for pots and pans, glass inserts in half of the wall cabinets and extended the height of the wall cabinets as well. We also make room for a way-big farmhouse sink, and a pass through and counter from kitchen window to BBQ area outside.
We went middle-of-the-road here. (Your big concern here is termites, so pick the least-tasty thing you can afford.) Mahogany is the most expensive. Pine is the cheapest. We chose maple, and a nice honey-colored stain like the cypress ceilings. And, kitchen and bath cabinets are UNDER budget. Repeat. UNDER budget. (Shhh! That's gotta be against all kinds of rules.)
December 6, 2005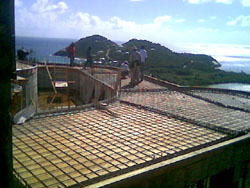 Bring on more concrete, and BUDGET BUSTING!
The steel is all down and the pool deck and sundeck are ready for the pour. We're both going down for 1 day (how insane is that?) this weekend.
And the builder's revised budget is in. We will be 21 percent over budget. By all measures, that is insane! By all measures, except those on St. John. And, truthfully, it is almost entirely because of concrete, which is largely because of a bad topographic map. We say "Ya, looks like 21 percent over," to friends in DC and they freak. We say "Ya, looks like 21 percent over," to people on St. John, and they say "Wow! Good for you guys!" It's actually a big relief to lift the veil of mystery and just have the number. A couple of more months and we're star-gazing on floaties in the pool.
December 8, 2005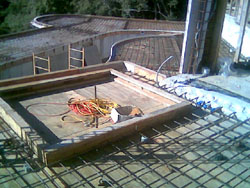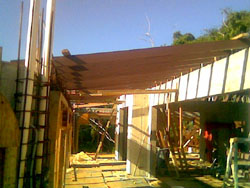 The hot tub area is all ready for the concrete pour. Cut a hole, and drop it in after that. We're glad we bought an in-ground version of a pre-fab, standalone hot tub. We've seen a lot of those custom-built hot tubs and they always seem to be broken. Plus, they usually look pretty uncomfortable
The roofers are now putting the rafters on the verandas. Next concrete pour is scheduled for Dec. 14.
December 9, 2005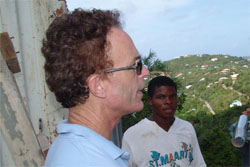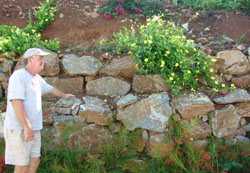 Jonathan Ruhsam (left) is selling Sunnyrock Construction to Steve Hendren (right), the site supervisor and foreman of all of Sunnyrock's recent projects, including Bongo Bongo. Jonathan is staying involved in Bongo Bongo until it is finished, but it is clearly Steve who is in charge of building this house now. This is not a problem, as Steve has been the guy on the site every day since day one anyway, and we very much like the guy. But it has made for some awkward situations recently, as we try to figure out who we should be talking to about what. We are not happy about being in the middle of a business changing hands.
Steve Hendren is now
Sunnyrock Building & Design,
and Jonathan Ruhsam is now
Sunnyrock Homes,
and he is now building custom homes in the Mid-Atlantic.
Bottom line as far as we're concerned? Jonathan has done right by us throughout this whole project, and we know he will continue to. We also think he picked the right guy to sell his business to, and we're comfortable finishing this project with Steve.
December 10, 2005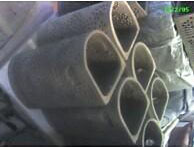 Bongo Bongo sconces being born! Eric, at Schnell studios, was nice enough to send us a couple of pictures of our sconces going through the birthing process. Here's Mike Schnell seaming a sconce, which is initially formed out of several sections.
And in the next picture, the first batch of genuine Bongo Bongo sconces awaiting the official Schnell signature, before heading off to the heat. This whole process takes days of forming, drying, firing once at low temperature for a day and a half, cooling, then firing a second time at temperatures that reach 2300 degrees. The second time around, it's two days from the time the sconces are placed in the kiln until they are cool enough to take out. From start to finish can take as long as 14 days.
Can't wait to show the Bongo Bongo sconces their baby pictures when they're older!
December 12, 2005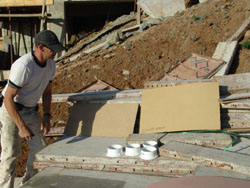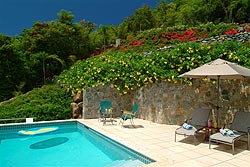 That was quite a trip. Down Saturday morning, back Sunday afternoon. We met with the plasterer, Gary Francis of Francis Finishes, who mocked up several big boards of stucco textures and colors. We chose the color Sandalwood, which is lighter than we had intended to go. We also chose a texture called "medium shot blast". It is a rougher, thicker finish and will be more durable and better at hiding cracks in the concrete that will come from settling and from, as Gary put it, "all the little shakers we get down here." (Read EARTHQUAKES!)
On the plane down, we met the owners of "Miles Away", a really cool new villa in Point Rendezvous. They showed us around their villa and, even in the short time we spent with them, gave us some great tips and ideas…and names of people (both to do business with, and to AVOID.) They are going to be a great resource for us.
December 13, 2005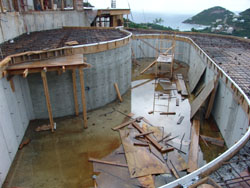 Saving money with a great idea the builder came up with…Original plans had two stone fountains with one pouring water into another, and the second spilling water over the side into the pool. The architect's plans had the second stone fountain's façade extending all the way to the bottom of the pool. Instead, we will frame in the underside of the second fountain, and have it be suspended over the pool. This saves a big chunk of money, and it creates what should be a really cool feature. You will be able to swim underneath the fountain with the water falling in front of you. Or…at least that's the idea.
December 15, 2005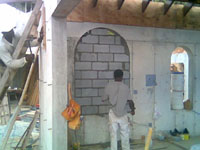 Okay…we know this sounds insane, but there is such a thing as too many windows. One of the bedrooms was just way too full of happy, breezy windows. I mean, like everywhere. The walls are Swiss cheese-full of windows and sliders. Which creates a couple of problems. One of the big windows opened directly into the dining area on the other side of the wall. We thought that was just kind of weird. And windows, especially ones that go darn near to the floor, eat up wall space. So, despite the fact that it kills us to do it, we block in a window, JUST ONE, and by doing so, give that bedroom a whole lot more privacy and at least a little wall space for furniture. There are still plenty of windows. Why didn't we think of this before? Fine, you do this!
December 17, 2005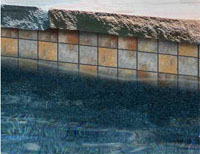 The final big concrete pour that was supposed to happen this week…didn't. That's especially bad, because we just made another draw request and the bank inspector is due on site. With the pour, we would have been golden. Without it, we're probably going to have to raid our piggy bank again.(And that pig is starting to squeal.)
The pour is now scheduled for next week.
We decided against using glass tile around the pool (squealing pig and all). We'll confine glass tiles to interiors someplace. So, we're picking tile from National Pool Tile.Our builder will get them with his discount through a distributor on St. Thomas. We think we'll go with this one for the border around the top of the pool. It's a stone tile called Raku Ocean. It's also 2X2, so it will install around the curves of the pool with no problem. Still thinking about what to do with the big pool wall. Maybe the same tile.
December 19, 2005
We hope this big pour happens this week, as we expect. We're really held hostage by these concrete companies. We schedule deliveries. Sometimes they show up. Sometimes they don't. I really don't get it, but it is the way it works. With this pour, Bongo Bongo should start coming together very quickly. The builder says interior framing will begin this week. We optimistically took the last two weeks of December off, planning on working to pull this house together. We're not where we thought we'd be when we scheduled the time off months ago. So…beaches and boats instead. How bad can that be? Holidays on St. John. Hoo- hoo.
December 20, 2005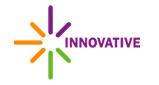 We have phone service. Well, sort of. A very friendly installation guy called to say he couldn't find the house. That's funny, cuz there isn't one. He gets directions to the site, and actually calls right back to say he's there. The phone is hooked up as far as the pole at the end of the driveway and he promises it's as easy as making a connection when we get our wires in place. At any rate, our phone number now rings.
The bank also gave us 60 percent of our last draw request and has deemed Bongo Bongo 75 percent complete.
December 21, 2005
This blog is getting too big to load quickly, so it continues on page two. Go here, or bookmark www.bongobongostjohn.com/blog2.